Making weekend plans: Think past the ads
(Read article summary)
Sometimes the easiest plans to make are the ones that have been marketed to you. They're also the most expensive.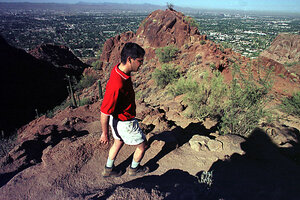 Robert Harbison / Staff / File
This week, The Simple Dollar is running a short series on some of the key moments in my financial turnaround and how you can experience those moments as well. For a full description of this, see the first article in the series.
My weekend planning has always followed the same general structure (at least since I graduated from college). I'll sit down with Sarah on Friday evening, we'll throw a few ideas off the top of our head, we'll pick one or two of them, and that's what we'll do. Saturday and Sunday follows that same general structure, though Saturday's options usually revolve around chores.
Before my financial recovery, the options we'd throw out were often expensive ones. "Let's go golfing Saturday afternoon." "How about we go over to Jordan Creek on Sunday?" (Jordan Creek being the relatively expensive shopping area in the Des Moines Metro.) "How about dinner and a movie on Saturday night?"
The problem was that by just relying on the ideas that came off the top of our head, we were by default preloading ourselves with activities that were fresh in our minds from marketing. We'd listen to the radio on the way home on Friday night and hear talk of a great new movie or restaurant. I'd drive by the golf course on the way home. She'd hear an ad for Jordan Creek on the radio.
Since these happened to be the easy ideas to recall, they were usually the ones we did. It wasn't because they were the "best" options, they were just the options that popped into our heads.
---