How to downgrade your job but not your life
(Read article summary)
Switching jobs may mean an initial pay cut, but there could be perks to doing it anyway.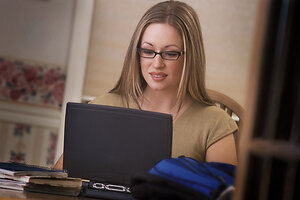 Photo illustration/Don Hammond/Design Pics/Newscom
In March 2008, I walked away from a great job into a writing career path that, at the time, paid me about 50% of what I was making at my previous job.
To a lot of people in my life, this seemed like an amazingly difficult step. That move reduced our monthly household income (at the time) by about 30% and seemingly did away with a great deal of job security. Why would I possibly make this move?
I did it for several reasons.
I wanted to spend more time with my family. Over the last few years of my previous job, I felt like I was constantly traveling and away from my family. I also felt that, even when I was around, I was having my family time constantly interrupted by work needs. I did not want to be that kind of absent parent and, for me, talking about wanting to be a great parent was more than just talk. I was going to walk the walk, too.
This was probably the only window of opportunity life would hand me to become a writer. Writing is something I'd always dreamed of doing for a living, but it always felt like something that would never realistically happen. When I first went to college, part of me wanted to major in English lit, but I chose not to do that solely because I felt like there was no income-generating career path other than being an English teacher.
My career path was one where I would never be able to significantly increase my pay based on hard work. I had no chance of ever building a large income stream from my job, no matter what I did.
Our spending was under control. We were not only spending less than our combined salaries, we were spending less than our combined salaries after I switched career paths.
I did not feel as though my previous job was actually helping anyone improve their life. I spent most of my time exploring abstract problems and answering abstract questions. While it was intellectually stimulating, it was quite often spiritually depressing.
---