Friendship is not a business
(Read article summary)
Mixing financial relationships and friendships can cause problems for both.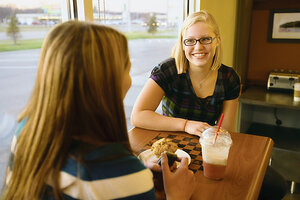 Photo illustration/Design Pics/Newscom
Let me make it simple.
I do not like mixing financial relationships with friendships.
I do not want to be friends with the person that is selling me a product. I do not want to be friends with my banker. At the same time, I don't want my friends to be selling me products or asking me for loans. Please, do not put me in a position where I feel obligated to lend money from you or buy something from you because of our friendship, because that question alone adds some poison to that relationship.
Let's look at it from another angle.
When I go to the bank, I'm not looking for a friend. I'm looking for a business relationship. I'm probably depositing some money or making a withdrawal. I might be taking out a loan. In any case, I'm only in the bank as a necessary step in getting to where I want to be. I don't want to have to pay them interest and I would love to be able to earn more interest on my savings. If I have an opportunity to jump ship to a better situation, I'll probably do that. It's not friendship, it's business.
When I go to buy something and a salesman approaches me, I know that the person is going to try to sell me a product. That person might be a source of some useful information, but I also know that they're earning money for the sole purpose of extracting cash from my pocket. Again, it's not friendship, it's business.
On the other hand, when I hang out with friends, I'm not looking for a business transaction. I'm looking to spend time with people I trust and value who I can talk to freely about my situation without worrying whether they're going to sell me something or they're going to want something from me. Here, it's not business, it's friendship.
Every time that line is crossed and I have a friend who wants to sell me a product or wants to borrow some money from me, the dynamic of our relationship changes.
There is an expectation that money will change hands in the future. A salesman expects that you'll buy a product from them and pay for it. A borrower knows that he or she will have to repay you in the future. A lender knows that you'll have to repay him in the future.
You can no longer easily talk about things you've purchased or other money moves around this person because they'll wonder, "Why didn't you buy from me?" or "Why didn't you pay me back?" or "Why didn't you lend me as much as I asked for?"
---