How will you use your tax refund?
(Read article summary)
Taxpayers who get a refund have a chance to put themselves in a better financial position.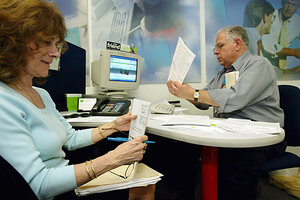 Melanie Stetson Freeman / Staff / File
Like many self-employed folks, for me April 15 means a day to write a check to the government. Even if I do manage to get a refund, I'm still writing a check on that day to pay my first batch of estimated taxes for 2011. It wasn't all that long ago, though, when April 15 usually meant that I would be receiving a tax refund check.
Back in those days, my tax refund check was a wonder. It usually meant some sort of giant splurge. I remember using it to purchase a new television and a PlayStation 2 in one day using my refund check in 2002 or so. In 2003, I used that refund check to buy two plane tickets from Chicago-O'Hare to London-Heathrow for a honeymoon for Sarah and myself.
Later on, especially in 2005 and 2006, our refund check usually went straight towards debt repayments. I'd deposit the check, then immediately go home and write some checks to various creditors to cover things I'd already purchased.
At this point, our tax refund wasn't a help – it merely helped sustain an unsustainable lifestyle for another month or two. It made our awful decisions seem a little less awful and made it seem reasonable to continue making them (although, by the time the 2006 refund rolled around, we had enough sense to keep our spending under control and used the money for positive financial change).
In 2007, though, we used our tax refund to contribute to the down payment on our home. This was, of course, a positive use for our tax refund as it went toward a tangible asset. (Since then, of course, tax day has meant paying in more than we receive.)
Simply put, your tax refund check presents you with a choice.
---