Instead of vacation, take a sabbatical
(Read article summary)
If you're sitting on a pile of unused vacation days, use them as a sabbatical and focus on something that will improve your life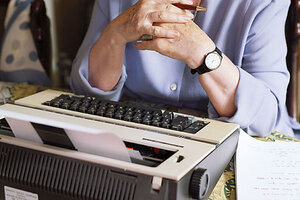 David Harrison/eyevine/ZUMA Press/Newscom/File
In September 2004, I was about to leave my first post-college job. My boss at that time – who happens to be one of the people I respect the most in this world, even now after my radical career shift – observed that I had a pile of unused vacation time that was basically going to disappear when I left that job in mid-October. He sat down with me and, once he was sure that the things I was working on were in good shape and that I'd be easily available if anything else needed to be finished up, he suggested that I use that remaining use-it-or-lose-it vacation time in order to transition to my new job.
In other words, I had about two weeks of vacation coming to me. I wasn't really sure what to do with that time, though. I didn't have children. My wife didn't have any vacation time coming. So I asked him what I should do with the time. He looked at me thoughtfully and simply said, "Why don't you just take a sabbatical?"
A sabbatical means a period in which you choose not to work in order to achieve something else that will improve your life. If you take a week off of work in order to re-pave your driveway, that's a sabbatical. If you take two weeks off in order to take a class, that's a sabbatical.
So what did I do during that week? I drafted a novel. It was the second novel-length work of fiction that I've completed in my life (and, like the first one, I now think it's pretty awful). It was also a great learning experience for me. It taught me how to organize the threads of a complex story. It showed me that I had the capacity to write such a lengthy thing. It gave me the experience that I can build on with better stories later on.
---