Should you trust finance publications?
(Read article summary)
Personal finance advice that runs in publications can be useful, but it's not always unique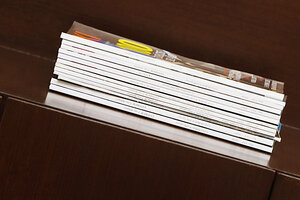 Photo illustration/Glowimages Glow Images/Newscom
When I first started writing The Simple Dollar, I was a big proponent of financial publications like Money Magazine, Kiplinger's, SmartMoney, and so on. I read them. I referenced them in posts. I even suggested that people subscribe to them.
For a long time, though, I've scarcely mentioned them. What happened?
First of all, the articles on basic personal finance in those publications are solid. They do provide good advice on budgeting, frugality, and other such topics, though many of those articles are matched by good blog posts out there.
Where these publications run into trouble with me is when they start talking about specific investments.
Let me explain what I mean.
As The Simple Dollar has become more popular, I've been the recipient of more and more PR releases related to the finance industry. Every day, my inbox is filled with people wanting to tell me about their financial product that will solve everyone's problems, their mutual fund that's on a "stunning" run of success, and so on. They're press releases, filled with the best possible picture of a particular item. I understand that.
What's disturbing is that I sometimes see the same exact talking points in other publications. I can take the key words out of some of these press releases, Google for them, and find many sites that have the information from that press release posted as a story. Sometimes, it's reworded a bit. At other times, it's just a verbatim copy of the press release.
This isn't just online, either. More than once, I've seen major publications do this exact thing. I'll see a press release and then, a few months later, I'll see that mutual fund or that financial product promoted in the text of a major publication.
Am I accusing these publications of being unethical? No, not really. I'm accusing them of being overworked, like many publications are. When you have a bunch of pages to fill and a limited amount of time to do so, it's very easy to just re-fit some content from a press release into the body of a story. "I need a few paragraphs about a mutual fund and I have thirty minutes to do it. Let's see what's in the PR file…"
---