Interest rates on student loans: when things get fishy
(Read article summary)
Interest rates can change when consolidating private and subsidized loans. Be sure to have the consolidation and the interest rates documented. See question No.3 of the Reader Mailbag.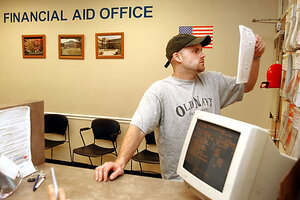 Mark Humphrey / AP
What's inside? Here are the questions answered in today's reader mailbag, boiled down to five word summaries. Click on the number to jump straight down to the question.
1. Car buying question
2. Food business
3. Student loan question
4. Difficult car choice
5. Moving from Mint to spreadsheet
6. Savings or down payment?
7. Homeschooling
8. Overwhelmed by mortgage
9. Investing versus loan repayment
10. Hidden messages?
Yesterday's review of The Total Money Makeover Workbook left several people asking me about other workbooks. While I may eventually review a few of them, I'll say that most of the ones I've seen on the market are exactly like TMMW: they're just rewrites of other personal finance books with some detail removed and some spaces for writing inserted in their place.
By default, I always would recommend grabbing a notebook and a pen and just working through a regular book instead of a workbook. You'll get more out of the experience – and you'll be able to work through the book again in the future or easily pass it along to friends.
Q1: Car buying question
My husband and I are moving from New York City to the Midwest and we need to buy a car fairly quickly. We both have jobs (he's started his, mine starts in three weeks), and will gross about $75,000 a year combined. We have $33,000 in combined student loans (currently paying minimums) but no other debt, and $45,000 in savings earmarked for the move ($4,000 for the movers), emergency fund (no set amount really), and eventual house downpayment or student loan repayment. While we'd hoped to be able to rely on public transit, the job I found is not actually in the city center and we will need to purchase a car for me to get to work. We can borrow a car for a week or two, but that's it.
---