Mortgage market: Is it a good time to refinance?
(Read article summary)
Mortgage market can change, and homeowners' personal circumstances can, too. After marriage, is it a good idea to refinance a mortgage to include both spouses regardless of the mortgage market? Look to question No. 1 in the reader mailbag.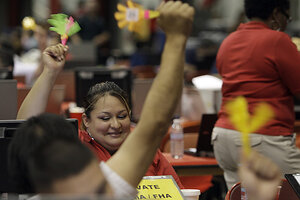 Reed Saxon / AP / File
What's inside? Here are the questions answered in today's reader mailbag, boiled down to five word summaries. Click on the number to jump straight down to the question.
1. Refinance mortgage to add spouse?
2. Scanner recommendations
3. Paying off boyfriend's debt
4. Investing in bond funds
5. Budget question from Phillipines
6. Financial book for teenager
7. Birthday presents for children
8. Handling extra cash flow
9. Insurance deductibles question
10. Enjoying baseball inexpensively
It's almost tradition for our family to go to this large field about five miles from our home, set up some comfortable blankets, and watch fireworks. This field is almost directy under the fireworks, so we can lay on our backs and watch the fireworks explode above us.
Sometimes, if the wind is wrong, we'll get some cinders on us, but they're well worth it for the wonderful sight of seeing the sky explode before us and hearing the children laugh and point at the lights.
---