Student loans: paying off loans with different interest rates
(Read article summary)
Student loans can come with different interest rates. Is it better to pay off students loans that you owe the most on, or that have the highest rate first? Look to question No. 6 of the reader mailbag.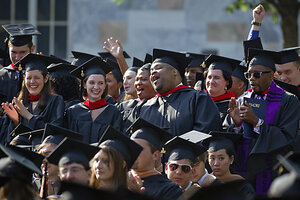 David Goldman / AP / File
What's inside? Here are the questions answered in today's reader mailbag, boiled down to five word summaries. Click on the number to jump straight down to the question.
1. Guilt for every little purchase
2. Handling partner without money skills
3. Auto insurance challenges
4. Handling elderly relative in decline
5. Preparing for a growing relationship
6. Handling student loan repayment progress
7. Used car decisions
8. Partner with terrible credit
9. Housing choices in expensive area
10. Gencon thoughts
For once, I'm going to break my stance against politics and offer up a few thoughts about the debt ceiling issue.
After watching the debt ceiling debacle of the past month and doing some research of my own, I've come to the conclusion that virtually everyone involved with the negotiation is much more interested in furthering their political ambitions than solving America's problems. This goes for Obama, Boehner, Reid, McConnell, and virtually everyone else involved with it.
---