Go ahead, buy the cheapest gas
(Read article summary)
Consistently buying the cheapest gas you can is smart, but don't drive too far out of your way to find it.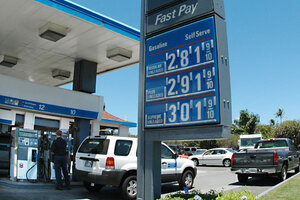 Ronen Ziberman/AP/File
I've turned the regular fluctuation of gas prices at the gas station fairly near our home (the one mentioned yesterday) into a game of sorts with my oldest son.
Simply put, we've started tracking the data.
We watch for the price of gas on that sign each time we drive by it, then we mention whether it has gone up or down recently.
We remember the record prices we've seen (sadly, he's so young that the lowest price he can ever remember is $2.97 a gallon – I remember my parents getting almost hysterical when prices inched vaguely near a dollar a gallon).
We also talk about whether or not the price is low enough right now to stop in and fill up.
We've even started tracking and recording this data a bit.
We do the same thing when we see gas stations in other towns, comparing them to the prices at home.
It's a fun little economics game, but it has some real value, too. I'm cluing him in on many of the things he needs to know in order to maximize his value at the gas pump when he's old enough.
If you can save $0.10 per gallon of gas, filling up a typical sixteen gallon tank saves you $1.60. Do that consistently and you're talking about a significant difference in your annual fuel bill.
So, how do you shave off that $0.10? There are a few things you can do to make sure that you're putting the least expensive fuel option into your tank.
For starters, know what your car needs. Very few cars need the premium fuel or can even utilize it to any degree of effectiveness. Take a peek in your car manual (see, there it is again – your manual is really useful) and see what type of gas is suggested. Most modern cars simply suggest using 87 octane gasoline, which is the "cheap" stuff at the pump in many states. Choose the gas type that's cheapest at your pump that meets the minimum suggestion from the manual.
---