How to ship a package and save money
(Read article summary)
There are a few tips that can shave several dollars off of every single package you ship, Hamm writes, leaving you with more money in hand and better results in terms of the value of a trade or an item sold.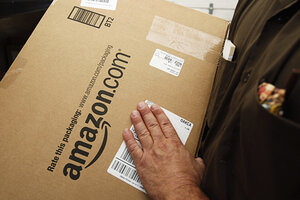 Paul Sakuma/AP/File
As many of you know, I actively trade (and sometimes sell) quite a few things thanks to the internet, which means over the course of the past several years, I've become intimately familiar with how the different package shipment services work. In the past few years, I've used the postal service, FedEx, and UPS to ship packages and I've learned a few things about how to maximize your buck.
All three organizations have disgruntled/bad employees who may damage your package.
I've read countless times on countless forums about how either UPS, the postal service, or FedEx damages everything they send or receive from them. Different people will swear by different services and completely avoid other services.
From what I've seen, it mostly comes down to individual people. The vast majority of people working for each of these organizations will treat your package well (or well enough, at least). There are a few people that work for each of these organizations who don't respect your package at all.
You might be unfortunate enough to live in an area where your delivery person is disgruntled and abuses your packages, leaving a bad taste in your mouth. Trust me – given the number of packages I've shipped and received over the last decade, all of the services tend to mostly do good work with a few bad apples in each.
I cannot say that I've seen one service or the other have a significant edge in terms of item security in a broad sense. Naturally, there will be local areas where one outpaces another, but that's entirely dependent on local employees.
Because of that, you must package your items well.
Pad everything with as much padding as you can. Packing peanuts work really well for this, but I've also used balled-up old newspapers and bubble wrap.
---