How to get work done? Avoid unnecessary tasks.
(Read article summary)
Urgent tasks can pop up and take attention away from the genuinely important things, Hamm writes. There are a few ways to avoid the needless distractions.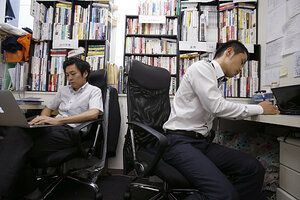 Shizuo Kambayashi/AP/File
Having a checklist of things to do each day really keeps me organized and focused on my goals, but it doesn't solve all my problems. Constantly throughout the day, little things come up that take me away from those important tasks.
I'll get a phone call or an email about something that seems urgent, so I end up having to pull up notes on something I didn't expect and dig into a conversation about it.
I'll feel absolutely out of focus and perhaps even a bit tired, so I'll spend some time playing a game of League of Legends or something similar.
I'll go down to the family room with my wife in the evening and get distracted by a television show instead of working on whatever I had planned to finish up.
I'll go out to lunch with a friend and then convince myself to run a relatively unimportant errand after lunch, even though it eats up that narrow band of child-free time I have to get other things done.
Over and over again, urgent tasks pop up and take my attention away from the genuinely important things I need to do, leaving me with a hard choice later in the day between two or three important things that need attention.
For me, a few things help me avoid this.
First, I simply turn off most communication devices when I need to work. My cell phone goes off. I leave my personal Skype number on because that's the contact number for my children's school, but it's only a number used for emergency purposes. I shut down my email program.
Basically, I save all of this communication for one big batch once I've completed some of the genuinely important things. I usually go through email twice a day at most – once a day on many days. If I let it constantly interrupt and distract me, I end up bleeding a ton of time throughout the day. The same is true for phone calls and texts to my phone – they just serve to interrupt.
---