Three advantages to living off a single income
(Read article summary)
Living off one income and investing the rest is more doable than you might think. Here's how to make it work.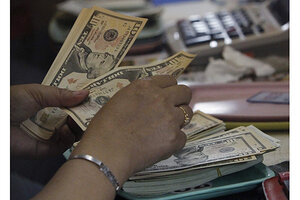 Romeo Ranoco/Reuters/File
In 2012, we invested more than 50% of our net household income. In 2013, according to the numbers I just ran, we're going to repeat that success.
What that means, in essence, is that Sarah and I (and our children) are living off of one income and banking the other income streams.
Our financial efforts in the five years before this have made this much easier. We paid off all of our debts, including our mortgage, our cars, our student loans, and our credit cards. Along the way, we got used to living below our means as we channeled so much of our income toward debt repayment.
Still, the last two years have taught us several useful lessons when it comes to one's finances.
It is very much worth it to have money in the bank. Having money in the bank is an incredible stress reliever that echoes through every aspect of your life.
If either Sarah or I were to lose employment, we would be fine for quite a while. If a major accident happened and we had to replace a vehicle, we could easily do it. Appliance failure or furnace failure? We could cover it without breaking a sweat.
This simply reduces the stress of everyday life. A strange noise in the car isn't cause for panic. Rumors of a layoff in the workplace doesn't cause stress-filled nights. A washing machine breakdown doesn't leave us wondering how we're going to pull this off.
To achieve that sensibility, you have to sacrifice some material pleasures. Again and again, though, I see how having less stress throughout your life is well worth letting go of some of the lesser desires and some of the more unnecessary luxuries.
Allowing lifestyle inflation to occur once your debts are paid off is a mistake. When you finally pay off your debts, you're going to suddenly have quite a bit more cash in your checking account at the end of the month, particularly if you are using a "snowball" method for paying off your debts (meaning you were throwing a huge monthly amount at that last debt to pay it off quickly).
This is where Sarah and I found ourselves at the end of 2011. All of our debts were completely gone – even our mortgage. Our monthly income blew away our monthly bills. If we wanted certain luxuries in our life, we could have them.
---