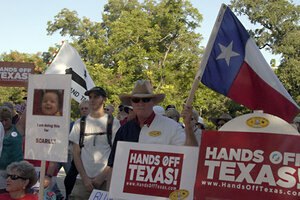 s15/ZUMA Press/Newscom/File
Actually what is triumphant is the economic model of low taxes, light regulation and economic liberty. As Michael Barone clarifies in today's (Weekend) Wall Street Journal (p. A13) no state has implemented these policies better than Texas. In "The Great Lone Star Migration," Barone details the winners and losers by population since 1930. He breaks the period into two sub-periods: 1930-70 and 1970-2010.
He presents much data, and one statistic stands out: "Today one out of 12 Americans live in Texas – the same proportion that lived in New York City in 1930." Other gainers by region are the Southeast and the Rocky Mountain states. The Plains and the interior South have also made gains. Regions that rose in the 1930-70 timeframe are now in relative decline due to bad policies in the states. The Pacific states are one example. The Northeast and Mid-Atlantic are two others.
No single measure measures the policy mix better than migration. People vote with their feet within and across nations. No one is going to Texas, or many of the other regional gainers, for the weather. They are going for the balance of economic opportunity, amenities and politics. Houston has an execrable climate, but is one of the most livable cities in the US.
---