Can consumption and investment increase at the same time?
(Read article summary)
No, but it's not a problem. Here's why.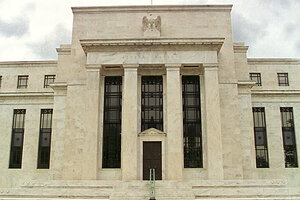 Andy Nelson / Staff / File
Currently there is an interesting discussion in the blogosphere on how it is possible that in Hayek's Prices and Production framework consumption and investment can increase at the same time.
In my opinion they cannot, or only very slightly, but this is not a problem! Because,
1) the explanation is not one of the boom, but of the upper turning point, for methodological reasons Hayek restricts himself to begin the analysis at full employment. But this is not necessary for the a Hayek-style story 2) the credit boom starts before the turn-around, and 3) a growing economy can grow faster in some sectors and less in others. But it might grow in all sectors during the credit boom.
I explain the credit boom as follows:
At the beginning of the upswing, investment demand, and with it the natural rate of interest, increases. However, the central bank stimulates spending during this period of less than full employment. Thus banks lend below natural rates. At these rates the production of capital goods is relatively more lucrative than it otherwise would be (they are capital intensive).
But ex-ante saving is low and therefore especially durable consumption good demand picks up as well. The rise in durable consumer goods production will lift prices for available capital goods (ppi) and reinforce the cycle. More resources are employed in capital goods and durable consumption goods sectors. These sectors expand relatively more than others during the upswing while the economy starts to grow. In this period of the cycle, we have a co-movement of growing investment and consumption because of unemployed resources and growth.
While the central bank slowly increases policy rates to balance the economy, some households buy assets to participate in the boom. Rising asset markets improve balance sheets of firms and banks. The expected returns on investment keep rising with the risen policy rate. Again, banks are inclined to lend below the ever rising natural rate. The credit boom gains new momentum, both consumption and investment are fuelled. During the credit boom the investment risk in the economy is high, because much production depends on too low capital market rates and asset price increases.
---