Government should stay out of the medicine cabinet
(Read article summary)
Is a drug development center at the NIH is an unwarranted extension of government?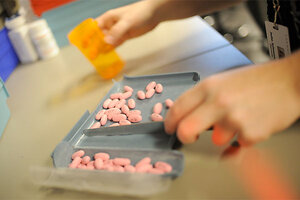 Sarah Beth Glicksteen / Staff / File
The New York Times of January 22 reports that the Obama administration has created a "billion-dollar government drug development center to help create medicines" as part of the federally funded National Institutes of Health.
According to the article, its rationale is to undertake research leading to the commercial development of drugs that has mysteriously lagged in the U.S. The article makes no mention of the regulatory costs drug firms face. The moving force behind this new center is NIH Director Francis Collins, famously (and embarrassingly) associated as runner-up in the Human Genome Project to Craig Ventner's privately funded effort.
The Times marvels at Collins' "ability to conceive and create such a center in a few short months." Yet his political connections apparently run quite deep. As Thomas McQuade reminds me, Bill Clinton arranged for a face-saving event for Collins in which the human genome "race" was declared a tie.
---