What Egypt can learn from South Korea
(Read article summary)
Twenty years ago, Seoul looked much like Cairo does today.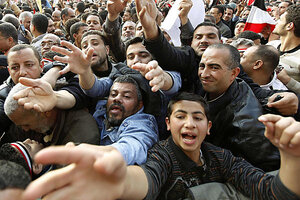 Dylan Martinez / Reuters
Compared to the turmoil in the Middle East, South Korea appears to be an oasis of calm. But as recently as 20 or so years ago you could still smell tear gas on the streets of Seoul. Violent demonstrations shook the city for decades—-making it look like Cairo today.
Despite continuing tensions with North Korea, Seoul is now relatively peaceful and the economy is humming along. How did South Korea get out of the cycle of angry protests and government repression?
Certainly part of the answer is prosperity. South Korean real gross domestic product grew at an average of 8% from the 1960s to 1990. Per capita GDP is now close to the level of Japan's (at purchasing power parity). But the expansion of jobs and income was in part a result of government response to public fury.
One of us (Young Back) grew up in Seoul and as a young teenager joined protests that pitted the police against the protestors. He remembers the widespread anger about an undemocratic and repressive regime. Political rent extraction was rampant. Much American aid was channeled through a corrupt political network with little benefit to the economy at large. Even youngsters like him, mere children, believed justice was on the side of the opposition. So he rushed to join the demonstrators.
---