Is the Fed building sandcastles?
(Read article summary)
Even if Ben Bernanke's monetary policy looks good in the short term, it may not be sustainable.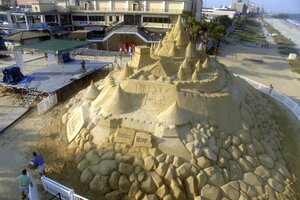 Courtesy of Copter Views / File
Chairman Ben Bernanke says don't blame the Fed for rapidly increasing commodity prices and probable bubbles forming in many investment markets throughout the world. I am just doing what is necessary for a recovery in the US and that is in the interests of the world. (See "Bernanke Defends US Policies" Wall Street Journal, February 19-20).
The reality is different. From a short-run point of view there is no reason for Bernanke to care what is going on in other nations. He will be judged "by history" by what happens here in the US. Therefore, he cannot be trusted to take the costs of policy – elsewhere in the world – fully into account. However, since bursting bubbles will affect asset markets here, he may begin to worry later.
And yet our fellow is boxed in. As he creates more money, and keeps interest rates low, in an effort to spur spending, much of the money will chase higher, riskier yields in foreign markets. From a US perspective, damage to foreign markets may just be the price we – oops they – have to pay.
But is the US successfully shifting the costs of its monetary policy to foreign countries? The prevailing view at the Fed and elsewhere seems to be as long as "inflation" is under control then the appropriate policy is further stimulus through quantitative easing. But wait a minute. The last two recessions – including the so-called Great Recession – were not preceded by bouts of inflation. Obviously, then, bad things can happen without general inflation.
---