Easy money and economic illusions
(Read article summary)
When advanced economies eventually leave their easy money policies, it will be come clear which economic miracles were real, and which ones were mere illusions.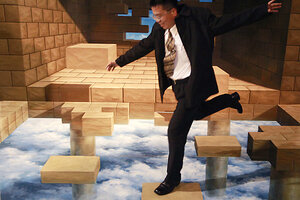 Nicky Loh / Reuters / File
While most advanced economies continue to suffer from high unemployment and record debt levels, monetary expansions in the advanced economies feed a tsunami of carry trades, hiking asset and raw material prices and accelerating growth rates in emerging markets from Brazil over the Middle East to China. While capital inflows drive miraculous catch-ups in many corners of the world – having learnt the lesson for the recent mega-crisis – the monetary authorities in the emerging markets are aware of the risk of financial market exuberance. They aim to prevent inflation and bubbles by absorbing surplus liquidity and tightening credit growth.
Yet by doing so, they cause distortions in the real sectors of their economies, which are not on the radar screen of the now ballooning financial supervision bodies.In line with Mises' oil stain theory monetary policy intervention to bail out financial sectors in the advanced economies is followed by the revival of government intervention and industrial policy in the emerging markets.
How does it work? Speculative capital inflows and accelerating reserve accumulation in emerging markets are counteracted with sterilization measures and capital controls. In Brazil capital controls prevent a free allocation of capital to the best uses. In China non-market based sterilization and credit rationing is used to further stimulate the already overinvested export sector. While sterilization keeps credit generally tight (for instance for consumers), the export industries and state owned enterprises enjoy low-cost credit to keep the capital stock growing. As sterilization operations also hold inflation low, the real exchange is kept undervalued what helps to clear the overproduction on international markets.
---