Obama speech: Can hope trump deflation?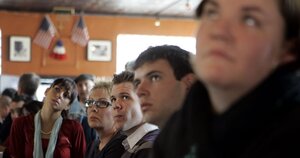 Jeff Roberson/AP
Hope floats – in the economy just as in Hollywood or sports.
It's often overlooked as a powerful lever for a foundering nation, maybe because it's so difficult to measure. Commentators often refer to investor optimism or consumer confidence – and these days both are in short supply – as key engines for the economy.
But it is hard for money men and women to figure out how to engender hope when the numbers are so gloomy.
That job falls, instead, to politicians – especially presidents, from Franklin Roosevelt to Barack Obama – who must rally people and create palpable hope for a better future.
Did President Obama accomplish that with Tuesday's inaugural speech? He ticked off America's wartime and economic challenges. He talked about the "sapping of confidence across our land, a nagging fear that America's decline is inevitable."
Then, in a startingly sober speech, he tried to rally his listeners: "Today I say to you that the challenges we face are real. They are serious and they are many. They will not be met easily or in a short span of time. But know this, America. They will be met. On this day, we gather because we have chosen hope over fear, unity of purpose over conflict and discord."
---