How many jobs from stimulus money? It depends.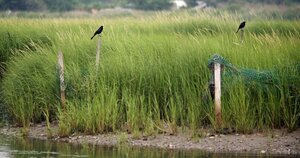 Melanie Stetson Freeman/The Christian Science Monitor/File
When former President Bush wanted to knock off a recession, he took out his rifle, loaded in a temporary tax cut or rebate, and fired.
It wasn't always successful, but it was simple.
President Obama, by contrast, is stalking much larger quarry with a shotgun. It packs a bigger shell, but its effect is more scattered.
Stimulus in 1,000 ways
What that means is that if the final package looks anything like what passed in the House Wednesday, most Americans will experience the Obama stimulus in a complex, diffused way.
There'll be a tax cut but also $1 billion for "construction, repair, and alteration of border facilities and land ports of entry."
There will be money for roads, bridges, and highways but also $200 million for the "Leaking Underground Storage Tank Trust Fund Program."
Bottom line
These are probably worthy programs. But how many jobs will they create?
It depends.
Overall, Mr. Obama says the $819 billion plan will create or save more than 3 million new jobs – at least 3.7 jobs per $1 million of federal stimulus.
That's pretty conservative compared with what the National Oceanic and Atmospheric Administration estimates it can do with $400 million in stimulus spending for habitat restoration and mitigation. The money will be spent on wetland restoration, removal of obsolete dams, and similar "green" projects.
Wetlands work
---