CEOs, Super Bowl stars play by different rules on payday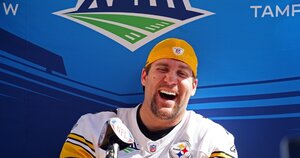 krtphotos/newscom
President Obama this week chided some super-rich CEOs for tossing big bonuses to employees, calling it "shameful." On Sunday, he'll cheer on a bunch of super-rich athletes tossing around a football.
Is there really any difference between the two? Aren't executives and superstars both overpaid?
Not quite. And therein lies some hope for reform.
No bailouts in football
Forget the obvious differences. Neither the Arizona Cardinals nor the Pittsburgh Steelers were responsible for the worst financial season since the Great Depression. They didn't take federal bailouts. They didn't shower bonuses on themselves and their colleagues to the tune of, oh, $18.4 billion the way that Wall Street chieftains did last year, according to the New York's state comptroller.
Here's what's really key: Star athletes are rewarded by the marketplace; CEOs are rewarded by their peers.
That's the conclusion of economists Robert J. Gordon of Northwestern University Ian Dew-Becker of Harvard in a recent study.
"CEO pay is set by boards of directors that are heavily influenced by the CEOs themselves," Mr. Dew-Becker writes in an e-mail. "There is room for disagreement over exactly how much influence CEOs have over boards, but it is undoubtedly the case that CEOs have vastly more input on their pay packages than other superstars."
---