US enters new era with CEO pay caps
(Read article summary)
Even in the 1930s, when anticorporate rhetoric was more vitriolic, FDR didn't limit pay.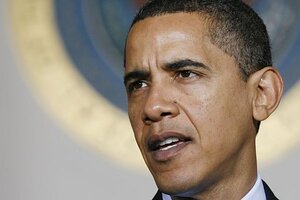 Charles Dharapak/AP
The United States is moving closer to dictating executive pay -- and its impact on corporate America could be huge (click here for an analysis).
On Wednesday morning, President Obama announced that corporations receiving new federal bailout money will have to limit their CEO compensation to $500,000.
If the rules had been in place last fall, when the Bush administration was handing out the first half of the TARP (Troubled Assets Relief Program), the CEOs would have howled. The CEO of Bank of America would have had to take a 97.9 percent cut in total compensation before the bank would have received its $45 billion in TARP money. The head of Citigroup would have seen his compensation fall 98.4 percent.
Limits on stock options
Sure, the chief executives can get company stock in addition to their half million. But it must be "restricted," which means they don't see a penny from their stock until the government has been paid off -- with interest!
Since the chances of that happening are on par with, say, Rod Blagojevich being reelected governor of Illinois, the Obama administration is offering those suddenly "poor" CEOs another out. After "a specified period," which so far is unspecified, they could cash in their stock if someone, presumably the administration, judged that the company "protected taxpayer interests or met lending and stability standards" or "other factors."
It's not exactly the "golden handshake" a lot of these corporate chieftains have come to expect.
---