While US job losses plunge, government grows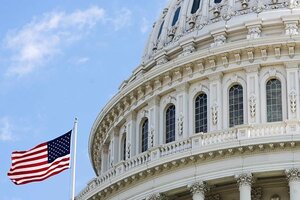 Manuel Balce Ceneta/AP
Want a stable future? Get a government job, especially a federal government job.
Good pay. Better benefits. And so far in this recession, a good place to park yourself, since every other employer seems to be passing out pink slips.
Government employment rose by 6,000 in January compared with December, the Labor Department reported Friday. That makes the public sector an island of calm in a raging economic sea that washed away a net 598,000 jobs last month. Only one other sector of the economy also escaped the storm – education and health services, which hired 54,000 more workers.
Publicly hip
No wonder government jobs are suddenly "in" – and not just in the United States. Queensland, Australia, has seen so many jobs cuts that applications for fire and ambulance jobs have nearly doubled from a year ago. In Miami, a week ago, hundreds of applicants camped out, some for three days, to apply for 35 firefighting positions. (Click here for a photo.)
---