Obama in Elkhart: Will he give hope a chance?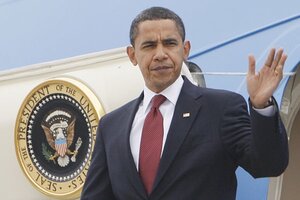 Charles Dharapak/AP
They came bundled against the freezing weather, blankets, sleeping bags, and lawn chairs marking places in line as residents of Elkhart, Ind., waited for tickets to see President Obama on Monday.
Four hours before the Mr. Obama's scheduled town-hall meeting, the line stretched longer than a football field, the Elkhart Truth reported, and was growing quickly. Students at Concord High School had to move around the lines to get to their morning classes.
Behind the star power
People come to see presidents for all sorts of reasons: for the aura, the history, and sometimes for hope. In wintry Elkhart, nursing the nation's fourth-highest unemployment rate (15.3 percent) in America's most manufacturing-dependent state, many must be looking for hope.
Realistically, there's not a lot a president can do to reverse Elkhart's fortunes. His $820 billion stimulus package won't fund all the local shovel-ready infrastructure programs that Mayor Dick Moore predicts would create more than 2,000 jobs. Obama can't bring back the recreational-vehicle industry on which the city's economy depends or make the unemployment lines go away.
---