Obama inspires Elkhart. But can it build solar RV?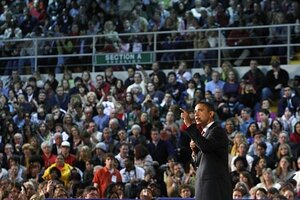 Jim Young/Reuters
President Obama came to Elkhart, Ind., to highlight the bad economy and push his stimulus package. But some of the biggest applause at his town-hall meeting came when he talked about green energy.
It's a sign that, even in the RV-manufacturing capital of the world, "green" is in.
"I want to make sure that we're investing some money every year in the development of new energy technologies that will drive those costs down over the long term," Mr. Obama told the assembled residents at Concord High School. "The country that figures out how to make cheaper energy that's also clean – that country is going to win the economic competition of the future. And I want that to be the United States of America."
There was a roar of applause. Never mind that half the town seems to be tied to building America's biggest noncommercial vehicles. Or that the average RV has the carbon footprint of a Third World nation.
Primed for change
No, the people of Elkhart sounded like they were ready for change. Now, can they go solar?
So far, the prospects don't look promising.
---