Markets' plunge suggests no recovery before September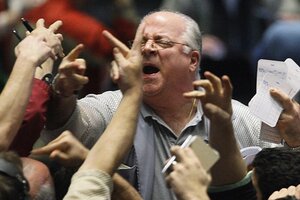 M. Spencer Green/AP
For months now, economists have tried to predict the shape of the world's economic downturn: a V, a U, or an L.
Monday's stock market plunge and mixed economic reports brought confirmation – if anyone needed it – that we're not in a V, a sharp plunge followed by a rapid rebound.
So the profile of where we stand boils down to either a U – a plunge, followed by months of stagnation before a rebound – or an L – where the months of stagnation drag into years with no rebound in sight.
Dow falls 300
Is the future really that gloomy?
Stock markets think so. The Dow Jones Industrial Index fell below 7000 for the first time since May 1997, tumbling just under 300 points to close at 6763.29 . The S&P 500 managed to stay above 700, only just, at 700.82, but that's still its lowest level since October 1996. Europe's major markets neared lows not seen since 2003. Japan's Nikkei was close to levels not seen since 1982.
If markets predict conditions six to nine months out, then the current funk among global investors suggests that there's no recovery before September at the earliest. That would stretch this downturn to 21 months, longer than anything the US economy has experienced since the 43-month nosedive in the early 1930s.
No big shockers
What's worrisome is that Monday's fall came on news that was largely anticipated.
---