Is Obama the investor-in-chief?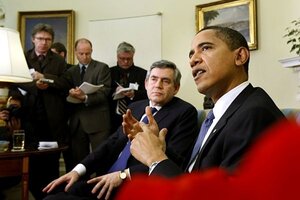 Gerald Herbert/AP
In a day filled with pronouncements by Federal Reserve and Treasury officials, the most talked-about statement was President Obama's off-the-cuff investment advice.
In some on-camera banter after a Tuesday meeting with British Prime Minister Gordon Brown, the president made what some people interpreted as a "buy" recommendation on US stocks.
A 'buy' signal?
His words weren't quite that specific. But he did say that corporate "earning ratios are starting to get to the point where buying stocks is a potentially good deal, if you've got a long-term perspective on it."
The comment came as stock markets are hitting new lows, the president's economic team is scrambling to reassure the nation that recovery plans are taking shape, and an overall mood of uncertainty looms large for ordinary Americans. On Monday, the Dow Jones Industrial Average closed at a 12-year low. By 4 p.m. on Tuesday, the Standard & Poor's 500 stock index has posted its first close below 700 since 1996.
---