Wake-up time for Congress on earmarks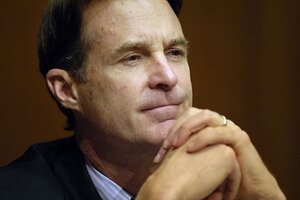 Newscom
Tough times are like an alarm clock. They wake people up.
GM awoke from its slumber this week to discover -- to no one else's surprise -- that it may not survive. Now the alarm bell is ringing in Washington.
That's one way to interpret Congress's failure to approve a $410 billion omnibus bill that was supposed to fund government through the rest of the fiscal year. Instead, it passed a stop-gap measure to keep government operational for days.
The problem with the omnibus package? Two many senators complained it was laden with pork and pointed most frequently to the bill's 8,750 earmarks -- pet projects of members of Congress -- worth $7.7 billion.
They complained about $143,000 for an online encyclopedia in Nevada and $6.6 million for termite research in New Orleans. At least the $1.7 million provision for hog odor research didn't try to hide anything. It was true pork -- and smelled like it, too. (Click here to learn about the Texas honeybee factory and other taxpayer stingers.)
Just shy of passage
The Senate didn't pass the bill because Democratic leaders reportedly were one vote short of the 60 votes needed for trouble-free passage and Republicans were savaging the bill for its wasteful spending. So maybe the jangle of the alarm clock is beginning to penetrate the Capitol dome.
Admittedly, much of the opposition is political posturing. Some of the Republicans who are incensed the most helped craft the bill. Most Republicans fed at the same trough when they were in the power. If this omnibus bill ultimately fails, they will also lose their pet projects.But some Republican critics have consistently opposed earmarks. This week, they were joined by a few Democrats, such as Sens. Russ Feingold of Wisconsin and Evan Bayh of Indiana, who also criticized the spending.
---