Worries rise about a currency crisis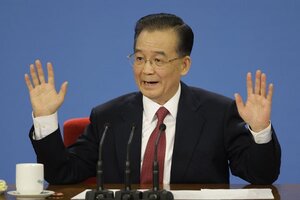 Greg Baker/AP
America's trade deficit fell for the sixth time in a row in January -- and that's a problem.
The challenge isn't the 9.7 percent narrowing of the deficit. That's good. The problem is that both imports and exports are both plunging, the Bureau of Economic Analysis reported Friday morning. That's a phenomenon that's happening around the world and putting enormous pressure on export-dependent nations.
It's beginning to squeeze China, which sent a veiled warning to the US on Friday. But for the moment, think Switzerland.
Its central bank on Thursday announced that its economic situation was so bad that it faced the possibility of three years of deflation. The reason: Its exports to the European Union have fallen hard -- partly because of the economic slump and partly because of the appreciation of its currency against the euro.
Exports down? Devalue.
So the bank said it would cut interest rates and sell Swiss francs to "prevent any further appreciation" of its currency. Accordingly, the value of the Swiss franc plummeted 2.6 percent, its largest weekly decline ever against the euro (which came into circulation a decade ago).
What happens next is key. One interpretation is that, once the franc falls to more normal levels -- say, 1.65 francs to the euro -- the Swiss National Bank will stop intervening in currency markets. "If my conjecture is right, they're really holding the line about 1.65," said Richard Cooper, professor of economics at Harvard University, in an interview.
The more ominous interpretation is that the Swiss will go too far and set off a damaging round of currency depreciations around the world. It's really the flip side of the tariff barriers that deepened the Depression in the 1930s. And the results are the same.
---