OK, I burned my press pass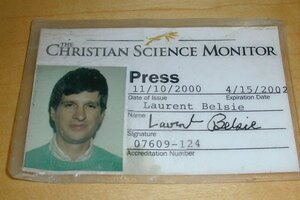 Laurent Belsie
One of the big changes in the new economy is the reinvention of newspapers.
On Friday, it hit this newsroom head on. It was the last day of The Christian Science Monitor as a daily publication. We're beefing up our online presence and starting a weekly magazine. Farewell, daily print.
So to mark the occasion, I burned my press pass.
What's the story?
Why burn a press pass?
Because in the new world of journalism, anyone can gather facts and publish them. That means my journalism colleagues and I are no longer gatekeepers, we're just professionals vying with a lot of other people who (I hope) want to get the facts straight and their analysis right.
Something else is afoot here in the journalism world beyond the end of 100 years of daily print at the Monitor. It hit home for me this week when my colleague Jimmy Orr looked into blogosphere speculation that President Obama, in writing to Jacques Chirac, mistakenly thought he was the current French president rather than the former one.
Eight minutes of research into French press accounts revealed that that interpretation was all wrong. The president was responding to Chirac, nothing more. Nevertheless, Jimmy's blog debunking that nonstory got 13 times the online traffic that our piece on the Asian trade slump got, even though it came out on the same day.
---