Which US cities will recover first?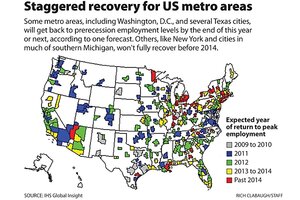 Rich Clabaugh
Just as some nations will recover before others, some areas of the United States will get back to peak employment by the end of this year or early next year. So where are the bright spots?
The folks at IHS Global Insight have come up with a map that highlights when metro areas are expected to get back to pre-crash levels of employment.
A capital improvement
The first place to look for early recovery is greater Washington, D.C. No surprise there.
"The only growing sector in the economy in 2008, 2009 was the federal government," says Jim Diffley, managing director of Global Insight's regional services, in an interview. "And it's embarked – of necessity, I would say – on an even stronger growth path."
So more federal jobs will boost the economy throughout northern Virginia and the Maryland suburbs.
Lone Star rebound
Another bright spot: Texas. "Texas has always looked better than everybody else," Mr. Diffley says. "I would almost argue that Texas is not turning up so much as it never turned down."
---