Obama: Boost US R&D beyond 'space race' levels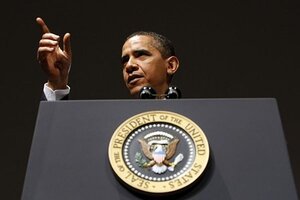 Kevin Lamarque/Reuters
President Obama set an ambitious goal Monday to have the US spend more on scientific research and development than it did at the height of the space race in 1964.
If he can meet that mark, it would reestablish the United States as an international leader in funding R&D. "Our investments have declined as a share of our national income," Mr. Obama said in a speech to the annual meeting of the National Academy of Sciences in Washington. "As a result, other countries are now beginning to pull ahead in the pursuit of this generation's great discoveries."
US still leads by one measure
The US still spends the largest sum on R&D of any nation. But as a share of gross domestic product, Japan was already ahead in 2000 (2.98 percent of GDP vs. 2.72 in the US) and other nations were moving up . (Click here for that report.)
---
Follow Stories Like This
Get the Monitor stories you care about delivered to your inbox.