Swine flu rattles global economy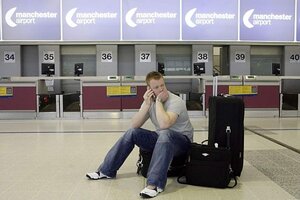 Phil Noble/Reuters
Nothing spreads faster than the fear of an epidemic.
Consumers, investors, the tourism business, and other industries around the world have already felt the impact of the swine flu epidemic. Its ultimate economic cost will depend not only on how serious it becomes but how long it lasts.
Tourism hit first
As with previous epidemics, the tourist industry was hit immediately. US officials warned against nonessential travel to Mexico; European officials urged no travel to the US as well as Mexico. Several US and foreign airlines allowed their Mexico-bound passengers to switch their tickets to other destinations even as their share prices tumbled on world stock markets Monday.
Other service industries were also hit in Mexico, which appeared to be the epicenter of the crisis. Authorities banned the public from a Mexico City stadium Sunday, so soccer teams played without their fans. Many local restaurants were empty or closed. (Click here for one potential bright spot for Mexican tourism.)
Food import bans
Fears even curtailed exports of pork, even though health officials have repeatedly assured consumers that there's no connection between pork consumption and the virus. China and Russia banned pork products from Mexico and US states where flu cases had cropped up. Indonesia banned all pork imports.
---