Dow's spring rally: Is it real (or like 1931)?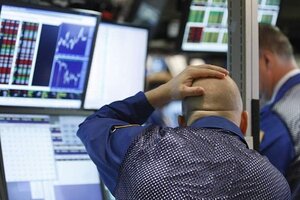 Brendan McDermid/Reuters
The US stock market is having a great spring.
The Dow Jones Industrial Average has rallied just a shade under 25 percent since hitting a multiyear low in early March. It has put together back-to-back monthly gains for the first time in a year.
Those are the types of gains that are turning many analysts into cautious optimists.
"Our conviction is growing that this last bottom [on March 6] represents the low for the present cycle," wrote Bob Doll, vice chairman of New York-based investment manager BlackRock Inc., earlier this week. "We are not convinced that we are at the beginning of a new secular bull market, since there are still a number of downside risks and a high degree of uncertainty remains. We do, however, continue to believe that stock prices will be higher one year from now than they are today."
Time to reinvest?
So is it time to dive into this market? Wall Street rewards the bold. History suggests volatility ahead.
The last time the world's financial system was this wobbly, Herbert Hoover was president and the Dow had plunged 48 percent from September to November 1929. Take a look at the chart above showing the first two drops and rebounds of the Great Depression and the current recession.
The bottom line: Fifteen months after hitting its peak in 1929, the Dow was down 49 percent; a little over 18 months after reaching its latest peak, the Dow is now down 42 percent.
---