Which perma-bear's now bullish? (Hint: Grantham.)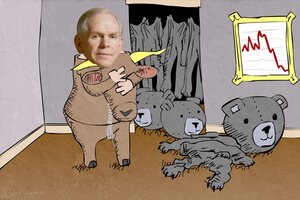 Jake Turcotte
It's an upbeat forecast that is surprising, perhaps, only for its source:
The US will move out of recession late this year or early next. There's a nearly 50/50 chance that the stock market has already seen its low for this cycle. The S&P 500 index will move up to 1000 or even higher before the end of this year.
Who's this new bull on the block? None other than perma-bear Jeremy Grantham.
Proven right, eventually
Since the late 1990s, he warned about overvalued stocks and financial bubbles, which finally came true with the pricking of the housing bubble and the deep recession that followed. (Despite missing the run-ups this decade, he still generates great respect from fans, such as here.) In March, when the market hit bottom, he also correctly wrote investors saying it was time to begin making large stock purchases because the S&P was undervalued and should be around 900.
On Tuesday, the index reached that level for the first time since January to close at 906. On Wednesday, Mr. Grantham published his latest shareholder letter, in which he formally parts company with his fellow bears, at least for a while.
---