Top 5 havens from US real estate storm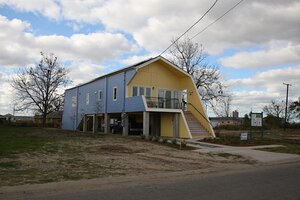 Tom Meinelt-Jackson Lee/Splash News/Newscom
New Orleans – the city partially built below sea level – is one of the least "underwater" when it comes to real estate.
Only 3.8 percent of its homeowners owe more on their homes than those homes are worth, according to new survey released Wednesday by Zillow.com, an online real estate marketplace. That's the second-lowest rate of the 160 metropolitan areas surveyed.
Of course, it's easy to buck the trend when a major hurricane wipes out a good portion of your housing, pushes out a third of your people (especially the poor), and causes federal and state governments to pump in millions of dollars in aid.
Low underwater rates
But take a look at the other metro areas that have become havens from the real estate storm: Augusta, Ga., where only 2 percent of homeowners are underwater; Cumberland, Md., (5.0 percent); Corvallis, Ore., (5.3 percent); and Oklahoma City (6.3 percent).
Their numbers would look a little worse if they included just mortgageholders, rather than all homeowners. But they come nowhere near the national average (21.9 percent) or the shocking rate in some cities like Stockton, Calif., (51.1 percent) or Las Vegas (67.2 percent).
---