Job hunting? This week's unusual openings.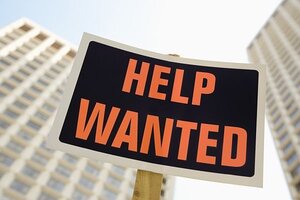 newscom
Every week, Monitor staffers comb the job listings in search of interesting places to work.
The seven most intriguing jobs we found this week are in Madison, Wis.; Chicago; Sun City Center, Fla.; Tulsa, Okla.; Grand Forks. N.D.; Pittsburgh; and Columbus, Ohio.
1. Scoreboard coordinator
Employer: University of Wisconsin athletic department
Wages/salary: Not listed
Details: Oversees game-day and event video displays at Camp Randall football stadium and Kohl Center basketball arena from a central control room. (For more information click here.)
Location: Madison, Wis. (pop. 219,843; median family income $71,596), is known as a liberal bastion and the home of the University of Wisconsin's picturesque main campus.
---