Obama healthcare push: right issue, tough choices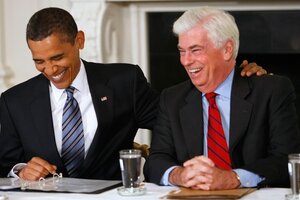 Kevin Lamarque/Reuters
President Obama's push for Congress to deliver major healthcare reforms by this fall is ambitious, not just politically but economically as well.
Mr. Obama argues that passing the legislation by October is vital to help put the economy on a solid growth track. In outlining his goals recently, the president said that "whatever plan we design" must bring costs down and give all Americans access to affordable care.
Reaching that objective will require more than a snap of presidential fingers, however.
Mr. Obama is focused on the right challenge, according to experts on the economics of medical care. Medical costs continue to rise faster than overall inflation, and the cost of healthcare is forecast to consume a growing share of US income in the decades ahead. Making health insurance available to more Americans will be very hard without cost control.
The hot months of summer will test whether Obama and top congressional leaders can thread some needles on policy. For example, Obama pledges to preserve Americans' ability to choose among doctors and health-insurance plans, but Republicans in Congress worry that an important tool for cost control – private-sector competition and consumer choice – will be short-changed in this summer's dealmaking.
---