As P&G CEO looks abroad, Home Depot cuts costs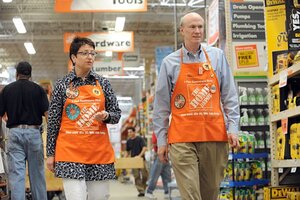 Newscom
Two leading companies. Two strategies for coping with a slow-growth US economy: overseas expansion versus austerity.
Procter & Gamble, the 172-year-old consumer-products giant, is talking about expanding into emerging markets. On Wednesday, it named 29-year P&G veteran Robert McDonald to be its CEO to lead that charge.
On the same day, home-improvement giant Home Depot forecast that its 2009 profits would decline less than it suggested a month ago. The reason wasn't increased sales – those are still expected to fall 9 percent – but better control of expenses. Bloomberg reports:
The retailer, led by Chief Executive Officer Frank Blake, has reduced expenses, shuttered its Expo design chain and frozen 2009 base salaries for officers as declining housing starts depress demand for home improvements.
"Our economic engine is no longer driven by new square footage," Blake told analysts on a conference call today. "Instead it is driven by discipline, capital allocation and productivity and efficiencies within our existing stores."
---