FAA head vows to crack down on pilot fatigue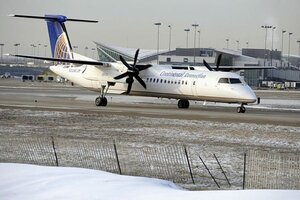 Gary Wiepert/Reuters/File
The sleepy pilot – a problem that regulators and industry insiders have been complaining about for years – is about to get some official attention in the wake of a February crash of a commuter plane near Buffalo, N.Y.
Randy Babbitt, the new FAA administrator, announced his commitment to new antifatigue rules today as regional airline executives gathered with federal officials for a "call to action" on flight safety.
"The bottom line is, I'm going to want a new rule," said Babbitt, who noted that the existing "flight time/duty time" rules for pilots are decades old and fail to take into account scientific research on fatigue since then. "We are going to get a new rule."
The crash, which caused 50 fatalities, has focused attention on the issue because both the pilot and copilot were found to be fatigued, according to initial reports from federal investigators. Concerns about fatigue have been longstanding and leaked by pilots not authorized to speak to the press. A year ago, the National Transportation Safety Board said sleepy pilots were a factor behind a regional jet skidding off the runway in Traverse City, Mich., in 2007.
---