Is Big Oil a crusader against greenhouse gases?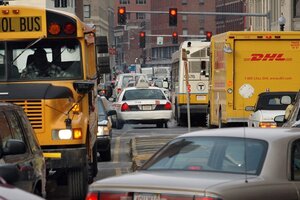 John Nordell/The Christian Science Monitor/File
Over the past eight years, which industry has invested the most to mitigate the effects of greenhouse gases?
You might be thinking of windmills or solar panels. Or maybe those folks who are trying to make energy out of pond scum ... er, algae. But according to a new industry-funded study (.pdf) out on Monday, the oil and gas industry significantly leads all other sectors, including the federal government.
Between 2000 and 2008, the Exxon-Mobils of the world spent $58.4 billion on such things as fuel substitution, energy efficiency projects, and new nonpolluting ways to produce energy, the study found. By way of contrast, the rest of North American business spent $55.3 billion in the same time period and the federal government spent $19.2 billion.
Where did the money go?
The largest investments went to advanced technology vehicles (28 percent), energy efficiency (14 percent), cogeneration of heat and power (11 percent), and ethanol (10 percent).
Did all those investments make any difference?
This is hard to say because, according to the Energy Information Administration, the US production of greenhouse gases dropped by 2.8 percent last year.
Who can forget 2008? Gasoline peaked at over $4 a gallon and the price of a barrel of oil zoomed to $147 a barrel. Oil was so expensive, alternatives such as hydrogen and solar began to look attractive.
The decline in greenhouse gas emissions took place just as the world was starting to go into an economic tailspin. Growth in GDP in 2008 was about 1.1 percent, according to the report, while energy demand fell 2.2 percent. Carbon dioxide intensity, that is the measurement of CO2 per unit of gross domestic product, improved by 3.8 percent in 2008.
Acknowledging those factors, the study also concluded that mitigation investments played a role.
Why emissions fell
---