Study: San Antonio is America's top recession-resistant city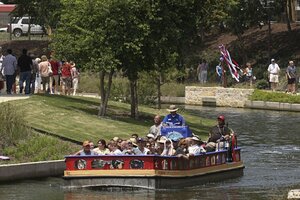 San Antonio Convention & Visitors Bureau/Newscom
Want to escape the recession? Try cities in Texas or Oklahoma – and avoid those in Florida or California.
That's the conclusion of a new Brookings Institution study. It finds that five of the top 10 metro areas likely to emerge from the slump first are in Texas and two are in adjoining Oklahoma. By contrast, four metro areas in Florida and two in California are in the bottom 10 metro areas and are likely to be stuck in recession for a while. Detroit, not surprisingly, is the worst performer. (Click on the chart to the right for the rankings.)
The purpose of the report, released Wednesday, is not to embarrass cities – or cause chest-thumping. Metro areas are a useful way to look at the effects of recession, since they are America's economic engines, the report points out. The 100 largest metro areas contain two-thirds of US jobs and generate three-quarters of its economic output.
The report might also help policymakers target cities that need the most help, says Alan Berube, research director of Brookings' metropolitan policy program and one of the authors of the report. "The stimulus package is not all that geographically-oriented," he says in an interview. "It was just divided into sectors and programs that can spend money quickly."
---
Follow Stories Like This
Get the Monitor stories you care about delivered to your inbox.