Got your iPhone? Try these other recession must-haves.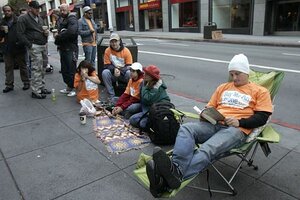 Reuters
Every economic slump has its must-have product. In the Depression, people snapped up cars (after 1932, anyway ). In the early 1980s, they grabbed personal computers. Today, it's smartphones.
There are good reasons for this. Smartphones make you feel brainy, organized, empowered. The perfect tool for reasoning with that angry collection agent or redirecting your friends' negative tweets with a cool onscreen compass.
Of course, this is no ordinary slump. The Worst Financial Crisis since the Great Depression has spawned the Longest Postwar Recession and a Really, Really Bad Job Market. Even '80s-tested boomers look a little green above the collar.
So you might need more than a BlackBerry or iPhone to ward off the shadows of personal bankruptcy. Here are my picks for the four other must-haves of this Great Recession. Readers may quibble about what I've left out, but no reasonable person believes you should be without:
---
Follow Stories Like This
Get the Monitor stories you care about delivered to your inbox.