Obama healthcare reform threatens truce with business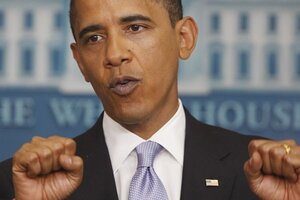 Ron Edmonds/AP
One Depression-era movement that's been missing from our own Great Recession is a war on business.
Is that about to change?
President Obama is going to regulate business more and tax it more. American business has largely given him a pass because of the extraordinary financial crisis he inherited. Healthcare reform is another matter. It has the potential to break the truce that has reigned between business and the White House.
The sticking point: President Obama wants to give consumers a government-sponsored option for insurance. Health insurers, worried it would drive them out of business, have begun to campaign against it.
On Tuesday, President Obama fired back.
"If private insurers say that the marketplace provides the best quality healthcare ... then why is it that the government, which they say can't run anything, suddenly is going to drive them out of business?" he asked at a White House press conference. "It's not logical."
The president went on to say that such concerns would be legitimate if the public option was going to be endlessly subsidized, implying that it would not be. But "the public plan, I think, is an important tool to discipline insurance companies."
---