US stocks enjoy strongest quarter since '98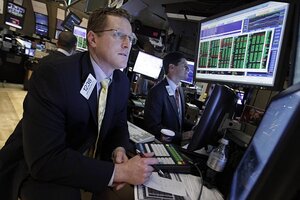 Eric Thayer/Reuters
The United States emerged from its deep gloom in March to turn in its best quarterly run-up in the S&P 500 index in nearly 11 years.
The last day of trading didn't shine, with the S&P falling 0.9 percent to 919.32. The Dow Jones Industrial Average fell 1.0 percent while the Nasdaq fell only 0.5 percent.
But the S&P's sparkling quarterly gain of 15.2 percent was a strong signal that traders have shaken off the panic after last September's collapse of Lehman Brothers. They've once again begun to embrace the hope that risk-taking can bring reward.
The S&P is nowhere near the 1251 level it hit on Sept. 12, the Friday before Lehman filed for bankruptcy. But in many other ways, the market has returned to pre-Lehman levels:
• The VIX, an index of market volatility, closed Monday a shade below its level on Sept. 12. That's a sign that traders are feeling more confident in the financial system.
• After a dramatic post-Lehman fall, the 10-year US Treasury note has rebounded and earlier this month topped the Sept. 12 level. Investors, who had bought the notes last fall as a safe haven from the panic, have apparently regained their appetite for risk.
• Shares of Morgan Stanley closed at $28.51 Tuesday, not quite the $37.23 they stood at last Sept. 12 but a good deal above the $9.20 lot they hit in November. Shares of Goldman Sachs, JPMorgan Chase, and other financial stocks have seen similar rebounds.
---