Time for a new job? This week's most intriguing openings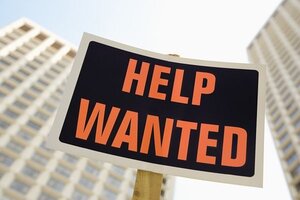 Newscom
The US economy lost 467,000 jobs in June, and Americans with jobs are now working the lowest average number of hours in 45 years of record keeping.
In an effort to turn these employment losses around, Monitor staffers each week comb the job listings in search of interesting places to work. The most intriguing jobs we found this week are in Sacramento, Calif.; College Park, Md.; West Point, Miss.; Terminal Island, Calif.; Sausalito, Calif.; Lexington, Ky.; Fort Worth, Texas; Valley City, N.D.; Lake Tahoe, Calif; and Madison, Wisc.
---
Follow Stories Like This
Get the Monitor stories you care about delivered to your inbox.