How much will you be worth, college student?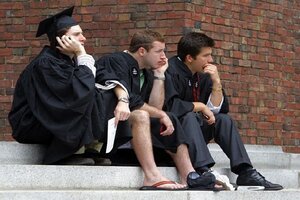 Brian Snyder / Reuters
You have an SAT score of 2000 and are studying art at Yale University in New Haven, Conn. Expect to make about $33,200 the year after you graduate.
Not thrilled? Raise your SAT 100 points and opt instead for engineering at Georgia Tech in Atlanta, and you can look forward to a $41,219 first-job-out-of-college salary.
At least so says a new "Human Capital Score" calculator designed by People Capital. The score is intended to offer an alternative credit rating for college students seeking private loans to finance their education. As opposed to the traditional FICO score – a measure of past credit performance, which many students haven't developed or don't have a high enough one for private lender standards – the "Human Capital" rating is meant to measure future income potential.
What's a student worth?
The calculator asks for basic transcript information, including test scores, GPA, and high school and college names. People Capital says its historical data sets on income trends for these various factors can offer a range of salaries the grad will likely earn for up to 10 years after school. But is this really reliable?
Financial aid expert Mark Kantrowitz says it can be. "They are clearly fuzzy factors, but you can translate fuzzy factors into a quantifiable measure of risk," says the publisher of FinAid.org and FastWeb.com, which offer information on scholarships and student aid. But he adds that it will take several years of looking at students' actual repayment rates under this setup to know if it works.
Basing loan terms on graduates' earning potential isn't completely new — the now-defunct MyRichUncle.com used majors, GPAs, and college reputations to assess credit risk, according to Kantrowitz. But People Capital's plan to pair income projections with a peer-to-peer lending scheme is new.
---