Need a new career? This week's top offbeat job openings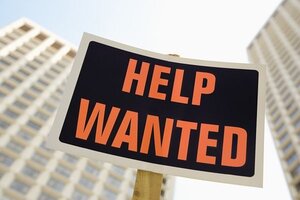 Newscom
The economy is changing. Workers today are learning to reinvent their skills to match the needs of tomorrow — and switching careers can mean upping pay grades and increasing job security.
To encourage all job-searchers to think outside their professional boxes, Monitor staffers each week comb the job listings in search of interesting places to work. The most intriguing jobs we found this week are in Bellevue, Wash.; Washington, D.C.; Kansas City, Mo.; Binghamton, N.Y.; Lexington, Ky.; Sioux City, Iowa; Park City, Utah; Montrose, Pa.; Somerville, N.J.; and Verona, Va.
---
Follow Stories Like This
Get the Monitor stories you care about delivered to your inbox.