Even college grads are signing up for food stamps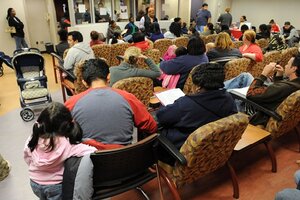 Zuma / Newscom / File
Ben Rollins just earned an MBA from Cornell and a $20,000 grant to start a new business. For the first time in his life, he's also on food stamps.
He joins the growing legion of people – a record 1 in 9 Americans – who are signing up for the government benefit to help pay their monthly food bill. While the vast majority of the 33.8 million recipients (as of April) are families, poor seniors, and disabled individuals, an unlikely demographic group – recent college graduates – are signing up, too.
Mr. Rollins had been searching for a job since last fall and didn't find one, but he stopped looking when he and a doctoral student won his school's business-plan competition to develop a regenerative contact lens. He's spending the grant money to launch his business, not put food on the table for his wife and two sons. So he signed up for $700 a month in aid as he scouts for a part-time job to help pay the bills.
"We didn't have the intention to [use food stamps] and our general thought was that we get by on our own," he says. "But in this case I think it makes sense for us, because it will definitely be temporary."
It's hard to prove that there's been a surge of recent college grads signing up for food stamps. The latest data – for fiscal 2007, before the recession – show that 457,000 recipients were in their 20s and had a degree or some college education, according to the Department of Agriculture. But the anecdotal evidence is piling up that more graduates are applying as jobs grow scarcer.
---